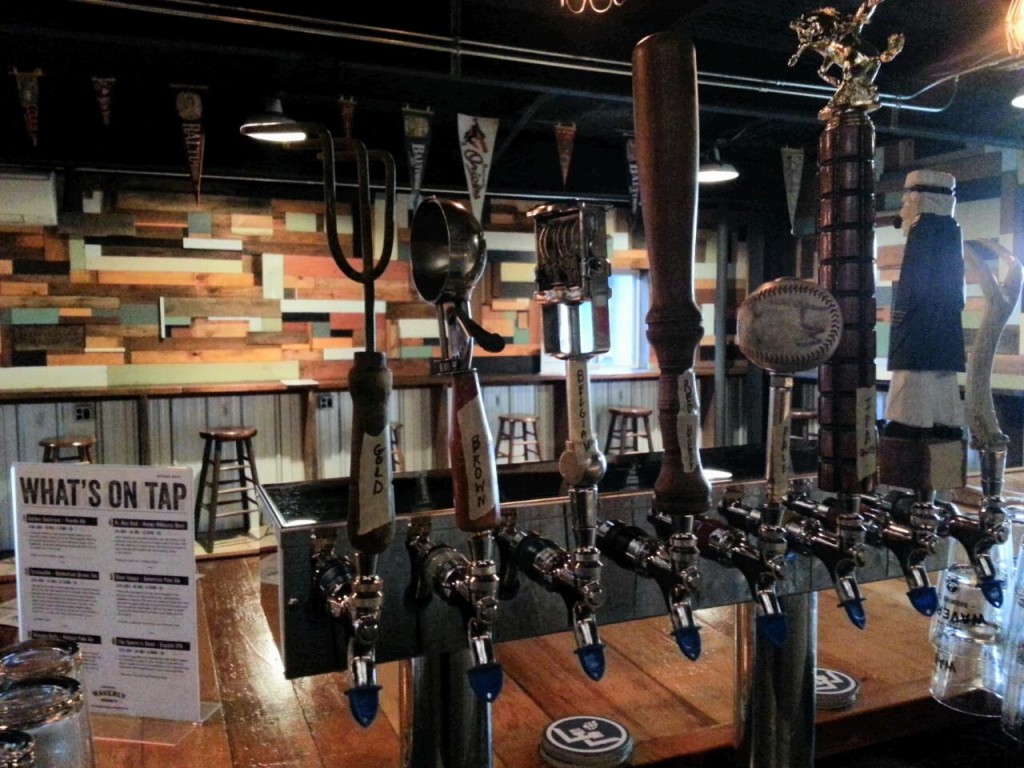 Our Tap Room, AKA "The Shed", @ 1625-C Union Ave., Baltimore, MD 21211, is located in the front of the brewery on the Clipper Mill Rd. side facing the Mighty Jones Falls.
Hours: Thu/Fri/. 4-9PM, Sat. 12-8PM, Sun. 12-6PM,
What started as a concrete and steel building grew in to a funky and cozy space made with a lot of blood, sweat, and beers (sorry). Some say it resembles a merchant marine's chill out space with great beer on tap- OK, we say that- and some say it's mash up of an old neighborhood bar with an art gallery + lounge that happens to be attached to a production brewery. Anyway you label it, we call it home and we hope you will too…well, not literally, but, frequently.
Beers: we have anywhere from 6-8 brewed on-site beers on tap at at any given point. Sometimes we feature a guest tap or two. Be sure to check the On Tap page to see what's current.
Growler Fills: we are currently not doing growler fills to reduce the chance of COVID exposure to our employees and customers.  Thank you for your understanding.
Crowler Fills: 32oz canned-on-demand wonders that are 100% recyclable and are pool/boat safe. Crowlers are a great choice for parties and gifts.
Cider: yep, we have cider for those folks that don't dig on beer. Usually a dry & sweet offering that changes with the seasons- our printed menu in the Tap Room lists out what is on hand.
Food: we work with several catering partners to be on-site during most hours we're open. They are stationed in our catering bar outside (or inside if too cold) and you can order directly from them. Offerings are chosen to compliment our beers and there's always something new & different! Check out our Facebook page for the schedule/menu.
Tours: we've partnered with the fine folks at City Brew Tours and are a stop on most of their Baltimore tours. If you are coming in to the Tap Room with a group and would like a tour, drop us a line to hook that up, or, if your in and we're available, we'll show you around!
---
Tap Room Decor: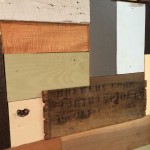 Nearly every inch of the Tap Room is comprised of recycled/reclaimed materials. Behind the bar, the lower half came from a family barn in Northern Baltimore County that dates to the late 1800s. The top half was the original flooring in a portion of the space that was randomly covered. We loved the old school house look and were able to save a good amount of it, so, hey, free wall covering! The bar top came from remnant floor stock a contractor friend dropped off one day. The beer rail surrounding the perimeter came from a burned down 20th century barn in Carroll County.
The patchwork walls were a labor of love that took place over several months- friends dropped off odd ends from their projects that they thought was cool and we constantly collected odd bundles here and there. Soon we had a pile of wood that in no way matched or was unusable to construct something uniform in nature. Cool textures and beautiful grains, but, a mishmash. Somehow, at the same time, we found ourselves in possession of half-used paint cans in some sort muted color palette. We mixed everything up and just hit it with paint and set about making it work. We think it works.
Using recycled materials allowed us to give components that have been a part of someone's memories the chance to help create more. Shared experiences are what we're all about and  nothing is better than doing so with a great beer in a place that has old bones.
Gallery/Lounge:
Equipped with a beautiful community table hand-crafted by super talented folks and a sweet old vinyl covered booth from the 70s, the Gallery Lounge is a nice place to chill out with a beer and take in some art. Monthly art shows adorn the wall from Baltimore-area artists and beyond. Watch our News and/or Facebook page for updates on art shows.